From 4th - 7th April, Tia Hou, the international sales manager of Central Dental show, visited 5 international pavilions including the Germany, USA, South Korea, Taiwan and Pakistan pavilions at the South China Dental Show to introduce the Central China Dental Show which is supported by Hubei, Anhui, Hunan, Henan, and Jiangxi, 5 stomatological associations to the international participants.
"The Korean and Pakistani suppliers showed great interest in participating in the Central China Dental Show at this stage. Since they are more likely to find serious buyers and expand their business in China through exhibitions, the high proportion of professional buyers attracted by the 2017 Central China Dental Show is a big attraction to them."Tia commented after her visit in Guangzhou.
She went onto say "Last year, many international brands, such as Kavo, Zimmer Biomet and 3M, already successfully exhibited at the Central China Dental Show, while Korean suppliers took the lead in developing the central market in China through this exhibition. Since the exhibition attracted a large number of serious buyers in 2017, the stands are booked very quickly by previous as well as new exhibitors this year. Therefore, we are very confident in having a bigger show in 2018 with more local and international exhibitors."
The Central China Dental Show takes place annually in Wuhan in mid-November. In 2017, there were 21 overseas exhibitors from 8 countries and regions participated in the exhibition. In 2018, up to now, Kavo, 3M and Straumann have booked their stands again at the exhibition. It is expected that the size of the exhibition will reach 30,000 sqm in 2018.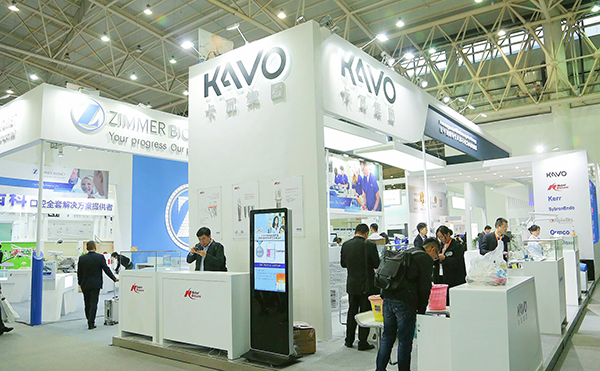 Kavo in Central China Dental Show 2017
3M in Central China Dental Show 2017
Straumann in Central China Dental Show 2017
● Wuhan is a core city in the Yangtze River Economic Belt. It is centrally located within central China and provides convenient for exhibitors and visitors.
● More than 10 million citizens make Wuhan (the 9th biggest in China and biggest in central China) a dental market with huge potential population consumption.
● Wuhan has the largest number of university students in the world, and every year more and more new graduates start looking for a job. To improve their chance in the increasingly competitive job market, many are looking to cosmetic teeth enhancement, producing rapid growth in the orthodontics and aesthetic repair market and thus presents a great potential.
● The nationally famous stomatological hospital of Wuhan University was founded here. It is one of the top five dental academic institutions in China providing the highest level of expert resources.
We welcome more overseas companies to join us and expand the market in Wuhan & central China.
International Sales Manager
Email: tia@hope-tarsus.com